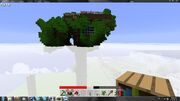 Some Minecraft Experts can make a mansion quickly.
Mansions are usually safe and big in size with luxury items.
Mansion are something only intermediate and experts players should build, beginners please, we recommend that you stay in a medium size shelter until you are experienced with the game.
OKAY
Ad blocker interference detected!
Wikia is a free-to-use site that makes money from advertising. We have a modified experience for viewers using ad blockers

Wikia is not accessible if you've made further modifications. Remove the custom ad blocker rule(s) and the page will load as expected.